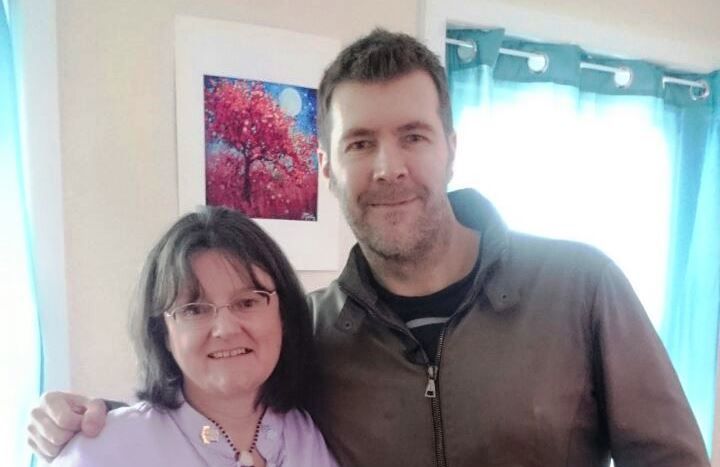 Here I am, Helen Jane Meyrick, with the lovely Rhod Gilbert just after we had finished an afternoon's filming for my 3 minute appearance on Rhod Gilbert's Work Experience Series 6. But how did I get here?
Well, my original career path originated when I studied A level computer science, leading me into the world of software programming and IT and culminated in my being a Database Administrator. It was during this period of my life that I began to look for something different. In 1996 I re-started my IT career after several years as a full-time mother and wanted to discover who I am. This was the beginning of my interest in Reiki, crystals and holistic healing.
My very first workshop was a Crystal Massage weekend and that became the launchpad for my desire to become a complementary therapist. I began with a course in Anatomy & Physiology, followed by a number of different crystal therapy courses ranging from correspondence course to formal classroom to a 2-year diploma course with ICGT. Alongside this I began my Reiki path, initially for personal reasons, and achieved Reiki Master Teacher in 2005. I worked part-time in the world of IT as a qualified tutor for nearly 9 years before taking voluntary redundancy, during which time I continued to develop my skills as a therapist and further my knowledge in complementary therapies.
In 2012 I added VTCT Level 3 Diploma in Reflexology Techniques to my skillset and intend to follow other avenues which this has opened up for me, possibly combining crystals in the reflexology treatment.
In more recent years I have completed studying for a Level 3 Diploma in Holistic Massage, Thai Foot Massage, On-Site Massage & Acupressure, Stress Management Practitioner Course, ITEC L3 Aromatherapy, Bach Flower Remedies levels 1 & 2 and Hot Stones Reflexology. I am currently studying Acupressure and The Five Elements with Michael Reed Gach' online course.
I also finally took all the nudges and hints from the Universe to teach! Currently delivering Reiki Level 1, 2 and 3 MP evening classes, SkillfulMIND Meditation, accredited courses in Crystal Therapy and one-day workshops on topics such as Meditation with Mandalas and Introduction to Crystals etc. I have plans for a number of other workshops and courses in the pipeline too so.....watch this space!
I can also be seen out and about at fairs and other events with my Travelling Crystals Stall and am often invited to be a guest speaker at local groups.